Bamboo Options
Finish options include a Klumpp coating that comes with a longer warranty because of the quality of the ingredients.
Klumpp coatings wear extremely well and are certified to be free from toxic substances.
Bamboo floors are available with the following installation techniques: glue, nail, staple or floating in pre-finished or unfinished.
The installation process is the same as the process to install hardwood flooring.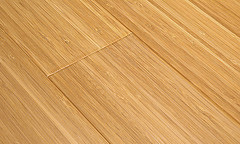 Design Options:
Bamboo is offered in planks, tiles as well as handscraped.
The handscraped products have limited availability.
The grain of bamboo is either horizontal or vertical. Vertical graining is a thinner, more linear look while horizontal graining is wider showing the knuckles of the bamboo.
With horizontal, the pieces are arranged and laminated side by side flatways. With the vertical type the slats are stood upright on edge and then laminated.
The first colors that were introduced were carbonized and non-carbonized. The result were a natural, amber, brownish color as well as a yellow based color. The brownish amber color is achieved by pressure steaming the bamboo, which creates a darker color through carbonization.
More recently, colors ranging from rich reds to mochas and blacks are available.