Bamboo Maintenance
Like hardwood flooring, bamboo floors need to be swept or vacuumed (without a beater bar) regularly to keep dust and dirt away. Dust and dirt can scratch the finish of the floor.
Mats should be placed at every entrance to keep the dirt from entering your home.
Spills should be cleaned up immediately. Spills that sit too long can penetrate the floor and permanently stain the floor.
To avoid invalidating your warranty, be sure to check to see if a specific cleaner needs to be used. These cleaners can be recommended from the manufacturer.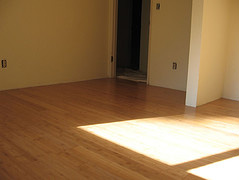 Rugs that are non rubber backed should be used to avoid discolorations on the floor.
Chair and furniture protectors should be used to protect the floors. Fabric or felt types are recommended. Casters should be removed and replaced with felt floor protectors when possible.
Because sunlight can fade bamboo floors, furniture and rugs should be rotated periodically. Rotating the furniture and rugs will produce a more even color. Use of window coverings also helps protect floors from sunlight.
High heeled shoes can permanently damage bamboo with dents.
Like the damage high heels can do, dragging heavy furniture or other items can permanently damage bamboo floors.